Turn complexity into simplicity.
Maintaining compliance for elevator and other conveyance systems is beyond complicated. Add this to all the other demands of being a building owner or manager, and your work day can last well into the night. But it doesn't have to be that way.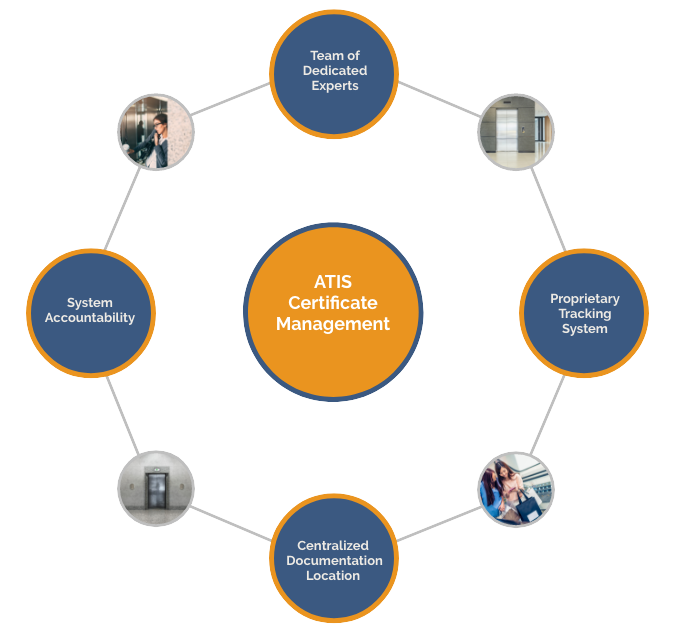 Take advantage of our Certificate Management Program.
With the ATIS Certificate Management Program, we remove that complexity by handling all aspects of inspection scheduling, violation tracking, and jurisdictional filings and requirements.
Download the case study and see how we took one client's compliance rate from 60% to over 90% in just seven short months.
The ATIS Certificate Management Program provides these benefits:

Tracking
The ATIS Alert Customer Portal gives you complete visibility into all your compliance requirements, including key inspection and service dates

Inspection
Automated reports are emailed to key personnel and any violation requirements are tracked, dated and shared with your maintenance company

Reporting
Once a conveyance inspection is completed, all filing fees and reports are stored in a centralized location

Certification
Once a conveyance passes inspection all fees, maintenance information and expiration date reminders are updated on the portal to ensure certificates are received on time
Wherever you are, the ATIS Certificate Management Program is there with you. Not only do we make sure your elevators and escalators are up to code, but you won't miss inspection deadlines. It helps keep those elevators and escalators operational to keep your organization and conveyance passengers moving in the right direction.
Learn more about our elevator Certificate Management Program today.
Contact us at 833-356-1171 or fill out the form below.